Discurso do Rabino Dr. Avraham Levy
Spiritual Head of the Spanish and Portuguese Community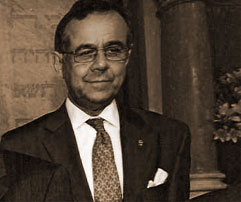 It is a great honour for my wife Estelle and myself to join you today in these Celebrations. As rabbi of the Spanish & Portuguese Jews' Congregation London, I bring you greetings from the community that was started 350 years ago by Portuguese Jews led by the great rabbi Manasseh ben Israel who it is believed was born in the city of Lisbon. To this day we use the Portuguese language in our synagogue thus showing the loyalty that we have for a country where we lived in peace and tranquillity prior to our expulsion and forced conversion in the 15th century.

It was in this country that our ancestors started one of the first Hebrew printing presses in the world which produced numerous incunabula for the use of the Jewish people.

My personal loyalty to this country goes further. It was Dr Samuel Levy's and my great great great grandfather Moses Levy who was one of the founders of the new Jewish community in Lisbon 200 years ago and it was my great grand uncle and namesake Abraham Levy who was one of the founders of this Synagogue.

What message can I give you today as a rabbi. The walls of this synagogue are seeped with the sound of prayer, walls which have witnessed countless tears shed by Jews whose hearts and minds were directed to their God in heaven.

Community leaders have two main tasks to perform to preserve the structure of the community its buildings and institutions, and to use those structures to bring in religious content and observance of the mitzvot .

Sephardim are particularly good at protecting structure look at the magnificent buildings in Amsterdam, London and New York. We are proud of our structures and so we should be. Similarly here in Lisbon you have a beautiful synagogue with elegant surroundings but this alone will not preserve our traditions nor guarantee our continuity.

This is Lisbon's first purpose built synagogue. For 100 years a hundred years before this Synagogue was built the community thrived only on Torah values -content without structure.

Today we need both. We rejoice at the centenary of this building but must commit ourselves to participate in the religious activities of this community .

Leaders of ancient monuments, like the aristocracy can be caretakers or initiators. Caretakers refurbish the furniture, preserve the paintings and repair the rugs. Initiators build on great traditions of the past, create new facilities for education, and progress religiously.

My community of Spanish and Portuguese Jews in London are proud of warm relationship we have with your ambassador his Excellency Jose Faria. The Jewish people here today are proud to welcome so many distinguished guests Jews Christians Moslems Hindus Baha'is and others. You demonstrate a religious tolerance and unity which is the envy of the rest of Europe during these troubled times. We remember with gratitude Aristides de Sousa Mendes and others who saved so many thousands of Jews from the Nazi gas chambers by supplying them with Portuguese passports. In the same way that we, the representatives of the major religions, have gathered together today, in an act of friendship - so may this spirit prevail in the Middle East and throughout the world. May we always remember that what unites us is more important than what separates us.

May God bless you all.